Toyota Tacoma MPG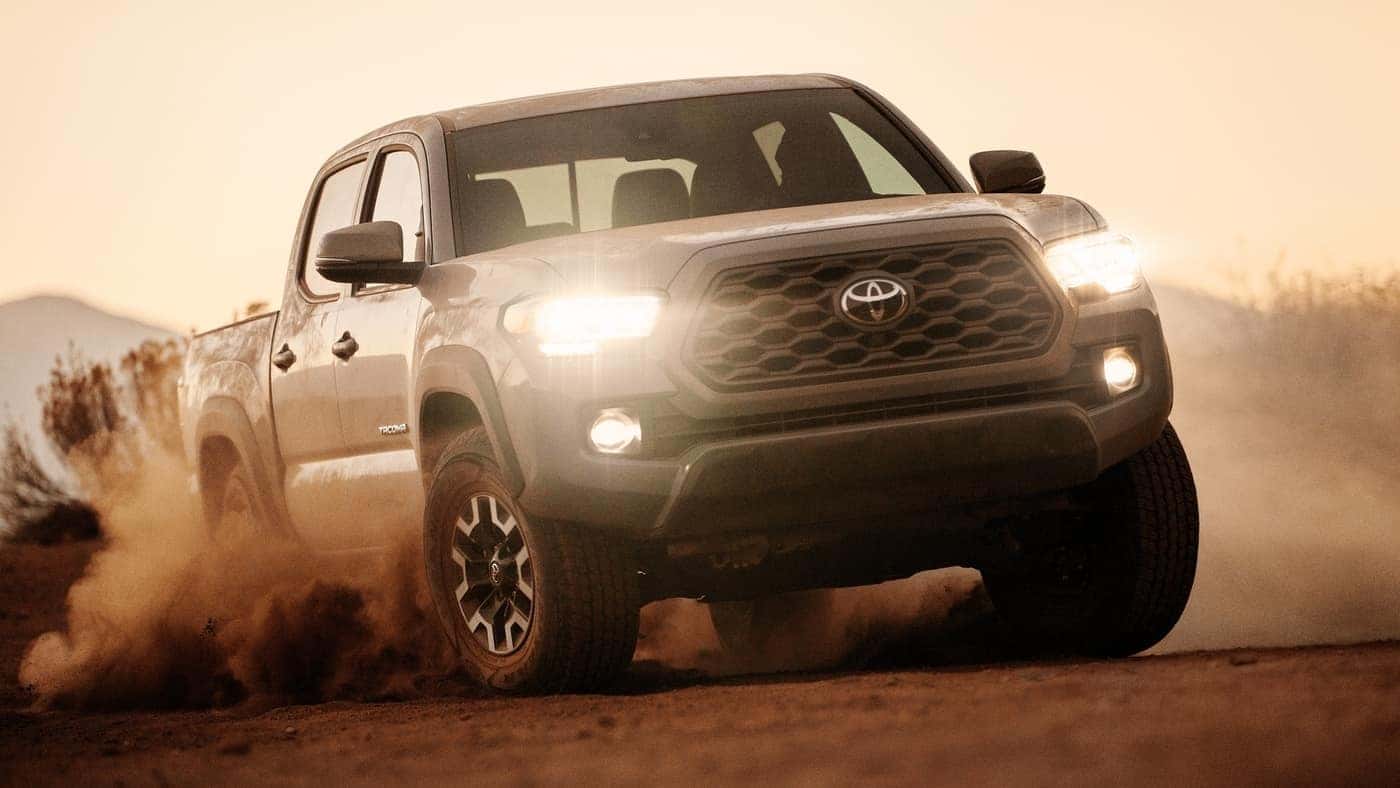 If you expect to run up lots of miles on your pickup truck between job sites in Doral and Kendall, you'll need to consider fuel efficiency just as much as power. Doral truck drivers know that the Toyota Tacoma delivers up to an estimated 20/23 city/highway miles per gallon and 278 max horsepower. Depending on your chosen trim level and configuration, the Toyota Tacoma mpg will vary.
Below, we'll look at how the engine, drivetrain, and transmission all affect fuel efficiency. Questions about choosing the right truck? Contact the Bolufe Auto Sales team for more car-buying tips today.
Toyota Tacoma MPG by Configuration
Three key factors influence the Tacoma fuel efficiency: transmission, drivetrain, and engine. Each unique combination of these three systems is a configuration, and each configuration earns slightly different fuel economy ratings. For example, 4×2 (2-wheel drive) drivetrains get better fuel economy than 4×4 (4-wheel drive) systems, the Tacoma 4-cylinder mpg is better than the V6, and automatic transmissions get better mileage than manual. Check out efficiency specs for each Tacoma configuration:
2020 Toyota Tacoma MPG by Engine/Drivetrain
Tacoma V6 mpg, 4×4 6-Speed Automatic — 18/22 city/highway
Tacoma V6 mpg, 4×2 6-Speed Automatic — 19/24 city/highway
Tacoma 4-Cylinder mpg, 4×4 6-Speed Automatic — 19/22 city/highway
Tacoma 4-Cylinder mpg, 4×2 6-Speed Automatic – 20/23 city/highway
Tacoma V6 mpg, 4×4 6-Speed Manual – 17/20 city/highway
Toyota Tacoma Price and Trim Levels
The 2020 Tacoma is available in six trim levels, each with a unique set of features to meet the needs of different Miami drivers. Some configurations are only available on certain trims. Take a look at pricing for each trim below, and contact us to find out which configurations are available on the trim in our inventory that fits your budget:
Toyota Tacoma Price by Trim Level
Tacoma SR – MSRP $26,050
Tacoma SR5 – MSRP $27,825
Tacoma TRD Sport – MSRP $32,745
Tacoma TRD Off-Road –MSRP $34,000
Tacoma Limited – MSRP $38,790
Tacoma TRD Pro –MSRP $43,960
2020 Toyota Tacoma Engines
Choose from two engines to equip your Tacoma with the power you need on-the-job in Kendall:
2.7L 4-Cylinder Engine — 159 hp and 180 lb-ft of torque
3.5L V6 Engine — 278 hp and 265 lb-ft of torque
Explore More Toyota Tacoma MPG Specs with Bolufe Auto Sales
Our knowledgeable team is happy to answer questions about the kind of performance you can expect from a Toyota Tacoma. Whether you need one for job sites in Hialeah or on the road in Doral, we can help you decide which configuration will benefit you most. Get started today with our car-shopping tools: apply for financing online and learn more about how to trade in your current car.
More from Bolufe Auto Sales
If you expect to run up lots of miles on your pickup truck between job sites in Doral and Kendall, you'll need to consider fuel efficiency just as much as power. Doral truck drivers know that the Toyota Tacoma delivers up to an estimated 20/23 city/highway miles per gallon and 278 max horsepower. Depending…

The Toyota Corolla mpg reaches a maximum of 53 mpg city and 52 mpg highway with the Hybrid LE trim — but you can also expect great numbers with the gasoline versions. Consistently ranked near the top of its class for fuel economy, the Corolla is the go-to sedan for Doral drivers who need a…

Whether you're considering a Chevy Cruze vs. Malibu or a vehicle priced under $10k, once you find what you want its time to buy! Now it's time to arrange financing so you can drive it off the lot. At Bolufe Auto Sales, Miami's premier used car dealership & The Miami car credit specialist, we have…